Automated Control Measurement
Two powerful assistance systems for automated control measurements herald a new era for the planning and execution of microtunnelling projects
In pipejacking and microtunnelling, the demand for longer drive lengths and curved bores has increased significantly in recent years.

VMT's TUnIS Navigation MT solution is the world's first and only microtunnelling navigation platform that combines all common and proven navigation technologies in one product line. Gyro-based, the system can negotiate multiple curves over significant distances, but as with all such navigation system options, control measurements are required to recalibrate the gyro and to keep the navigation system fully accurate over the full drive route. For the most part, these control measurements have been undertaken manually by surveyors using total station techniques.

Automation of these control measurements offers very significant advantages: The potential to reduce survey time on site, the number of personnel needed and the skill set required provide both time and cost efficiencies. With MultiStation and with the latest development, TUnIS.pipelight, VMT offers two performant systems for automated control measurement
The optimal supplement for your Pipe Jacking and Direct Pipe projects in small and even non-accessible diameter areas.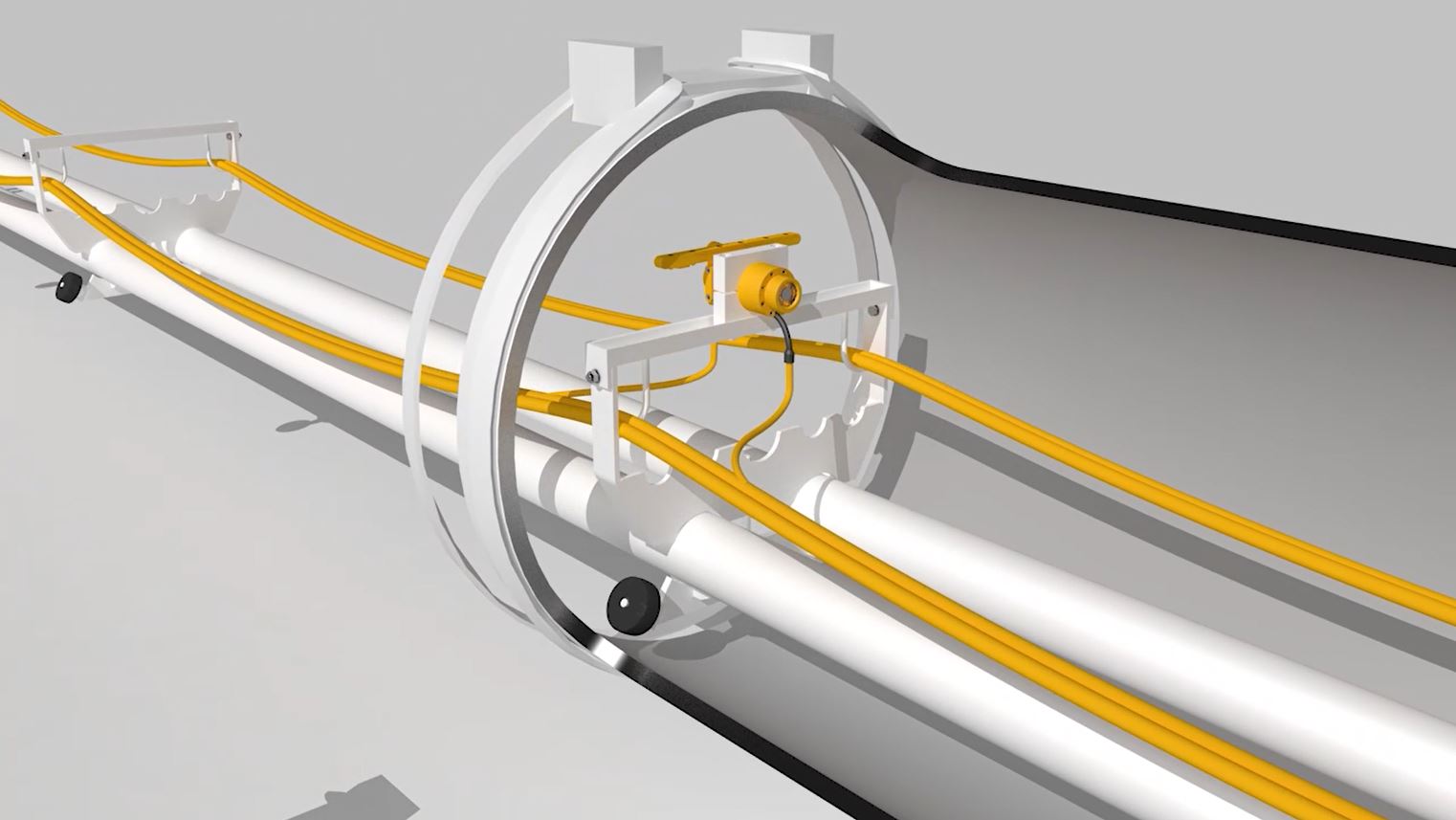 TUnIS.pipelight, a camera-based assistance system for carrying out automated control surveys improves the precision of gyro-based navigation systems for pipe jacking and Direct Pipe projects in small and even non-accessible diameter areas.

TUnIS.pipelight acts as automated traverse measurement that determines the actual position of the tunnelling machine and therefore enables the calibration of the gyro navigation system without any significant interruption to the tunnelling process. The system's mode of operation is based on a completely innovative technology using compact camera sensors. These sensors are suitable for very small pipes and pipeline diameters (<1,200 mm). This enables complex alignment geometries to be realised with adequate accuracy.
The advantages at a glance
A new era in microtunnelling: For the first time, TUnIS.pipelight makes it possible to carry out control surveys in non-accessible curved drives
Significant reduction in costs and construction time: For small, non-accessible pipe jacking, the number of intermediate shafts can be significantly reduced thanks to TUnIS.pipelight
Considerable decrease in downtime for accessible direct pipe jobs: Automated control measurements
take a maximum of 30 minutes instead of several hours
Increased daily output: Significant savings in costs for energy, personnel and rental equipment over the entire project duration
Maximum occupational safety: Thanks to TUnIS.pipelight, no surveyor needs to go into the tunnel; no elaborate safety concepts necessary for measurement services in direct pipe drives
High flexibility: because of the modular system design, TUnIS.pipelight can be flexibly adapted to the project requirements and, for example, only installed in certain sections of the pipe string
Screenshots
The optimal supplement for your long-distance and curved drive navigation systems
The MultiStation assistance system automates the control measurements required in microtunnelling projects to readjust the navigation systems used.
Microtunnelling navigation systems usually have to be calibrated at regular intervals. This is done by a classic, manual traverse measurement from the launch shaft through the pipeline to the machine. The manual traverse measurement typically requires the use of specialised surveyors and a standstill of the tunnelling machine for several hours.
The use of the MultiStation makes control measurements much more efficient: Tunnelling only has to be interrupted for a few minutes. Specialised surveyors need to be on site much less frequently.
The advantages at a glance
Reduction of downtimes for control measurements to a few minutes: Downtimes of several hours are no longer necessary, as is the case with manual control surveys.
By automating the control measurements, there is no longer any need for a surveyor to be on site. This reduces the costs for services of surveying experts.
Control surveys can be carried out at shorter intervals, at any time. This avoids larger deviations, reduces corrective steering to the minimum necessary and minimises both jacking forces and pipe loads: The quality of the pipeline is significantly improved.
Control measurements can also be carried out for smaller diameters (down to DN 800) – this means for pipes that cannot be entered. Thus, even long-distance and curved drives in these diameters can be excavated with high accuracy, resulting in considerable cost advantages during construction.
Screenshots